Posted by Marija Mrvosevic on
You've given Shanoli her livelihood back... thank you! COVID drives sharp rise in undetected leprosy cases but THANK YOU for your healing generosity We're so grateful for your kindness, which helps us to find and diagnose cases like Shanoli's, even throughout COVID. Because with many leprosy cases going undetected during the pandemic, the goal of zero leprosy transmission by 2035 is under threat. If Shanoli had not received treatment for leprosy, she risked permanent damage to her foot... perhaps even amputation. At first, Shanoli didn't even realise she had leprosy! She lost feeling in the soles of her feet but continued...
---
Posted by Marija Mrvosevic on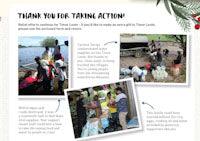 Timor Leste had already suffered its share of COVID casualties. Then Cyclone Seroja hit, causing extreme floods that wiped out many homes and livelihoods. People were left without clean water and food... putting their lives at risk.
Recent Articles
Categories