The Chutney Ration Pack
The Chutney Ration Pack includes The King's Gunners Regimental Relish, West Bengal Rifles Regimental Chutney and The Indian Light Infantry Regimental Chutney.
Size: 110g each
Ingredients: Fruit chutney: tomatoes, apples, apricots, water, brown sugar, onions vinegar, prunes, dates, ginger, mustard powder, coriander, cumin, garlic, cardamom Mango chutney: mangoes (57%), vinegar, sugar, ginger, garlic, salt, tapioca starch, chilli powder. Tomato and red pepper relish: capsicums (35%), tomatoes (27%) brown sugar, onions, vinegar, garlic, tapioca stach, pepper, cloves.
By purchasing this product, you are contributing to the cure and care required by people affected by leprosy and disability. Your purchase helps enable them to restore their lives. (13925)
The Chutney Ration Pack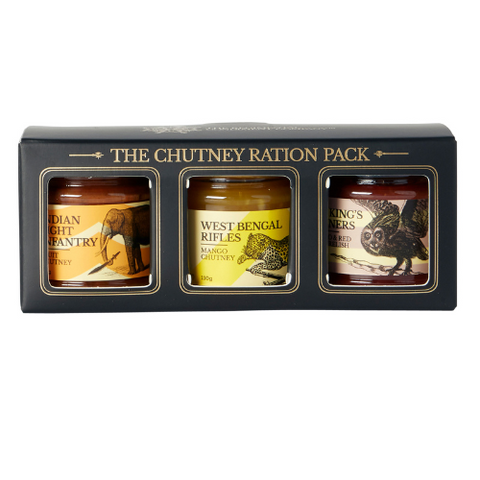 With every purchase, you help!
Cure, care for & restore people affected by leprosy & disability
Provide people affected by leprosy, poverty & disability with a dignified source of income
Provide livelihoods for artisans living in poverty
Make a positive impact on the environment by buying sustainable products
Support local Australian artisans & help local businesses thrive
Support Fair Trade & Anti-Slavery initiatives standing by people in need