Seven Spice Sri Lankan Chai
A unique blend of seven freshly ground spices, sourced directly from some of the world's finest spice farms. Combined with an organic, unrefined jaggery sugar (evaporated sugar cane juice) and a natural Sri Lankan tea extract. A perfect balance of spices. Vegan friendly and Gluten-free.
Size: 200g. 
Seven freshly ground spices
Sourced internationally
Vegan friendly and gluten-free
By purchasing this product, you are contributing to the cure and care required by people affected by leprosy and disability. Your purchase helps enable them to restore their lives. (12730)
Seven Spice Sri Lankan Chai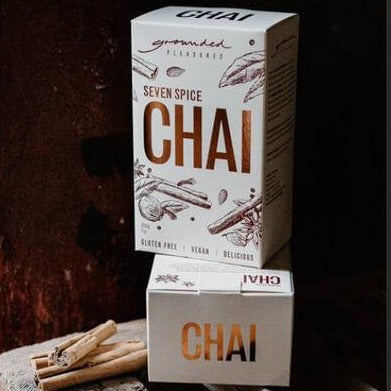 With every purchase, you help!
Cure, care for & restore people affected by leprosy & disability
Provide people affected by leprosy, poverty & disability with a dignified source of income
Provide livelihoods for artisans living in poverty
Make a positive impact on the environment by buying sustainable products
Support local Australian artisans & help local businesses thrive
Support Fair Trade & Anti-Slavery initiatives standing by people in need