Rabbit Plush Play Set
Meet Rubie, a rambunctious rabbit who loves cooking and baking delicious food. With a friendly smile, Rubie has her own mini rabbit-sized recipe book that you can make for her, and the recipe is real so you can make it yourself, too! Your little one and Rubie the Rabbit will become best friends!
The perfect companion for bedtime cuddling or make-believe adventures. In the Kitchen Play Set also includes 3D pop out furniture and the keepsake packaging doubles as a play scene. Make your own mini Rubie-sized recipe book with an easy-to-assemble craft sheet.
Size: 25.5 x 12.5 x 10.5 cm
Age: 3 +
Material: Cotton Plush/Cardboard Box
By purchasing this product, you are contributing to the cure and care required by people affected by leprosy and disability. Your purchase helps enable them to restore their lives. (13820)
Rabbit Plush Play Set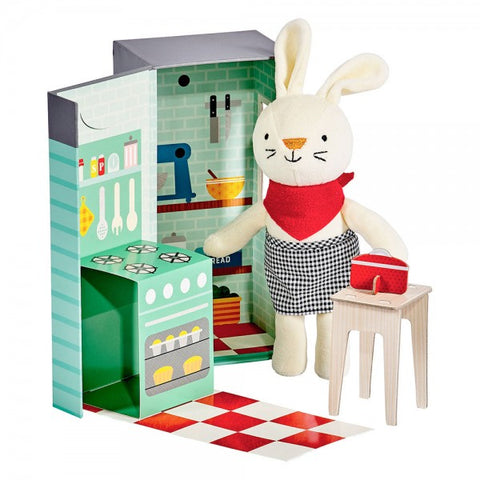 With every purchase, you help!
Cure, care for & restore people affected by leprosy & disability
Provide people affected by leprosy, poverty & disability with a dignified source of income
Provide livelihoods for artisans living in poverty
Make a positive impact on the environment by buying sustainable products
Support local Australian artisans & help local businesses thrive
Support Fair Trade & Anti-Slavery initiatives standing by people in need