To a Special Couple Pop-Up Card
This special occasion card is sold singly and includes a mailing envelope. Decorated with lovely birds, hearts and flowers! Great way to wish all the best to a happy couple. When removed from the envelope the card pops out into a 3D arrangement.
By purchasing this product, you are contributing to the cure and care required by people affected by leprosy and disability. Your purchase helps enable them to restore their lives. (13582)
To a Special Couple Pop-Up Card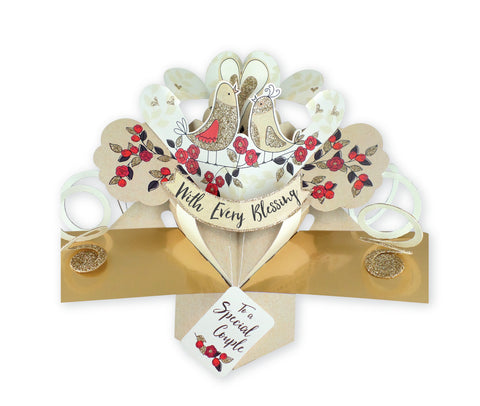 With every purchase, you help!
Cure, care for & restore people affected by leprosy & disability
Provide people affected by leprosy, poverty & disability with a dignified source of income
Provide livelihoods for artisans living in poverty
Make a positive impact on the environment by buying sustainable products
Support local Australian artisans & help local businesses thrive
Support Fair Trade & Anti-Slavery initiatives standing by people in need